Don't have the budget or land for a large water park or theme park, but are looking for a way to generate entertainment income? Family Entertainment Centers (FEC's) may be a perfect fit for you. Water Ventures can assist with your project and provide a diverse range of services and programs, including:
Interactive Water Spray Parks
18 and 9 Hole Miniature Golf Courses
Indoor & Outdoor Play Structures
Water Slides
Skate Parks & BMX Parks
Bumper Boat Ponds (Above & Below Ground)
Go-Kart and Pedal Kart Tracks (Electric, Gas, or Pedal Powered)
Batting Cages (Indoor/ Outdoor Coin Operated)
Ropes Courses and Zip Lines
Climbing Walls (Kids Climbing Boulders, Sectional and Full Wall Sculpted)
Lazer Tag Arenas
And More!
Water Ventures can design smaller FEC's to fit within your space and/ or budget. We can help with Turn-Key Design, Management, and construction of the entertainment facility as well as overall layout, ticket kiosks, birthday party/ arcade rooms, restrooms, restaurants, sidewalks, landscaping, lighting and more.
The Key to a successful small entertainment park is to identify the demographics of your market, competition in the area, peak attendance, location, and a design whereby all of the rides and attractions work together to create a friendly, comfortable atmosphere for parents as well as children.
Water Ventures can perform an in-depth feasibility study to determine the right size of the park, mix of rides, and the merited level of investment for the proposed location. A forecast of the level of investment required, operating costs, revenue, and return on investment is determined over the first 5 years.
Click HERE to contact us about getting more information on designing and building a Family Entertainment facility.
---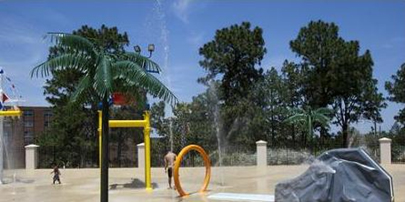 Spray Parks: Water Venture can design and build Water Spray Parks from 600 square feet to 20,000 square feet. They can be designed to fit in small areas and limited spaces and can be built in a variety of shapes. Water Ventures designs and builds complete water spray park facilities, including the pump house, lighting, landscaping, safety fencing, viewing patio, shade structures and options such as lightning detection systems, misters, bathrooms, and ticket kiosks. Simple zero-depth spray parks feature both below-ground water jets and above-ground water features to keep children happy and entertained on hot summer days. Water Spray Park structures can be added to include slides, tipping buckets and dozens of interactive features.
Send us an email HERE to receive more information on your Spray Park.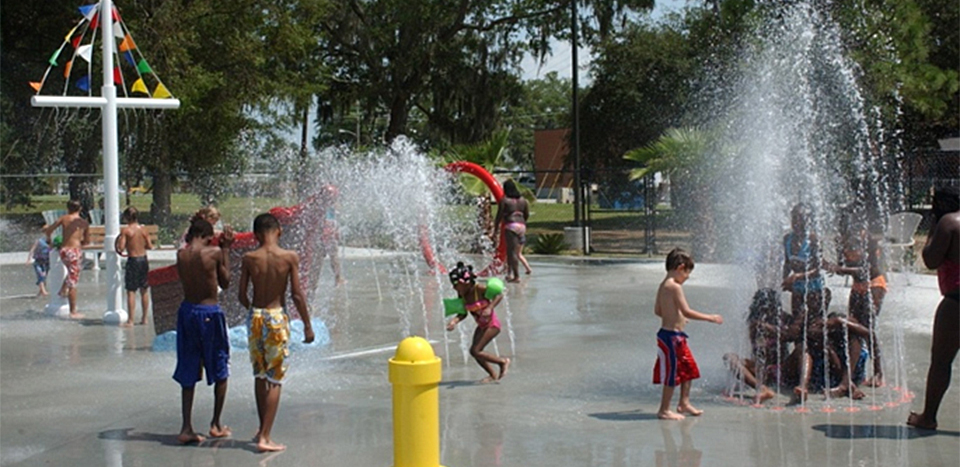 ---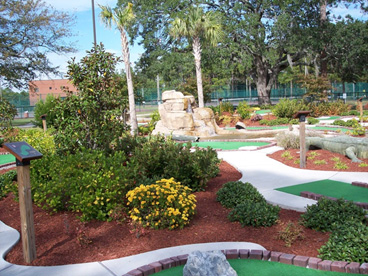 Miniature Golf Courses: Water Ventures supplies and installs indoor and outdoor miniature golf courses ranging from 2,250 to 20,000 square feet. We can form out the land to the contours of the design and pour a concrete 9 or 18 Hole course, or we can supply pre-fabricated concrete sections ranging from 12 feet to 32 feet with various obstacles, multi-holes, and simulated sand trap hazards. They are heavy duty and will hold up under heavy use.
We can design and install the course, or we can send the holes and equipment to you with the diagrams and plans for you to do the installation with your own crew. Everything can be supplied but some of the materials would be obtained locally to save on costs. Water Ventures also carries clubs, balls, score cards, signage, etc. as well as themed items (rockwork, themed animals, boats, etc) and waterfalls and ponds. We also have a fine design team to create any theme, special attraction or special landscaping as required. We can design any size course, and can include clubhouses, arcade buildings and other attractions if required.
Send us an email HERE to receive more information on your proposed Miniature Golf Course.
---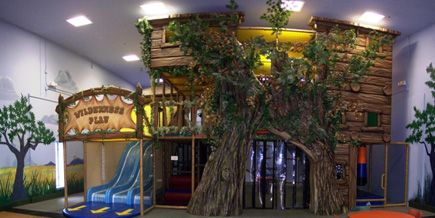 Indoor Play Structures: Visually stunning fully themed interactive soft play centers designed around an impressive array of motion play events, slides and activities, which will not only captivate a child's imagination but will engage them in a series of challenging activities with the use of direction, motion and coordination. Children will be energized as they move around the play center, constantly being challenged and making decisions on where they should go next. Multi-level play centers designed specifically for children 3 and over and/ or soft play Toddler Areas can be designed to meet your room space requirements.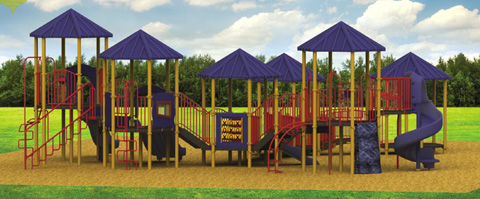 Outdoor Play Structures: Water Ventures can design, supply, and install outdoor play grounds in any size, theme, or for any age group. Outdoor play areas can be designed with sitting areas, shade structures, fencing, landscaping.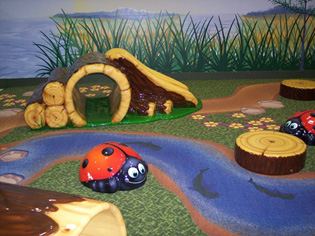 Soft Play: Individual elements can accent your play structure or create a unique play area of their own. All elements are custom themed, soft, durable and fun! Cushiony shapes are custom created to suit your budget size of play area, and theme. Soft foam rubber covers each of these molds to provide extra safety and long lasting durability.
Send us an email HERE to receive more information on your proposed Play Structure Project.
---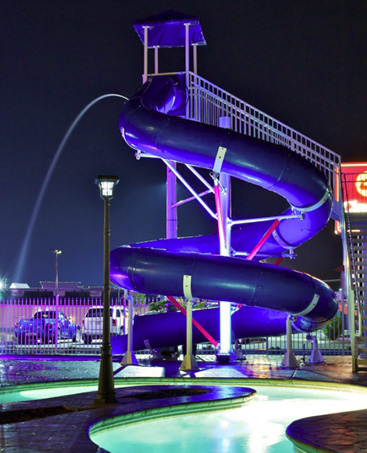 Water Slides: Water Ventures offers free standing waterslides for FECs with their own runouts or splash down pools. These slides can be configured as a themed tower (pirate, tropical, surf) or individually.
Our Soft Modular water slides are enclosed and padded providing a safe, worry free climb to the top. Only the finest materials, including High Density Polyethylene, stainless steel hardware, and heavy duty aluminum are used to construct the slides, guaranteeing the maximum lifespan. The latest innovation in is our Open Stair designs. Like our Soft Modular Water Slides the Open Stair Slides are constructed from only the finest materials available. We offer our slides with either T6061 Aluminum or 316 Grade Stainless Steel coated with our proprietary two part coating system for chlorinated and salt water environments. The Slides and Custom Railing Panels are made of High Density Polyethylene. The treads and landings are cushioned with Pebble Flex Safety Surfacing providing a safe, fun environment. Both the Rail panels and safety surfacing can be customized by having your community name, company logo, or any other design inlaid.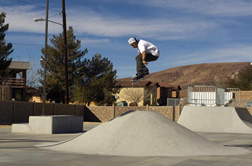 Skate Parks, Paintball, & BMX Parks: Water Ventures offers action sports venues for FECs ranging from Skate parks to full, multi venue paintball parks offering league and team play. BMX parks are designed for competitions and team racing.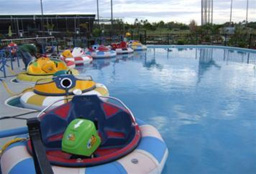 Bumper Boat Ponds: Water Ventures offers Bumper Boat Ponds complete with boats (electric or gas and two person or single), filtration system, pumps, staging docks and railing, optional islands, water cannons and spare parts. Bumper boats operations can also be designed for existing lakes and bodies of water with dock loading and unloading.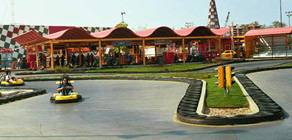 Go-Kart & Pedal Kart Tracks: Water Ventures designs and builds Go Kart tracks complete with either gas or electric cars, pit loading area, overnight storage building, safety barriers, outer fencing, spare tires and parts and remote shutoff controls. Many different track designs are possible including small tracks for kids and competition tracks for serious racers. Pedal kart tracks for children are also designed both on dirt and concrete.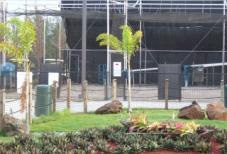 Batting Cages: Water Ventures designs and builds batting cages in both indoor and outdoor configurations with coin activation and options such as softball pitching machines, baseball machines, auto fed systems etc. bats, helmets, balls, spare parts supplied with netting and optional fully enclosed systems and sitting areas.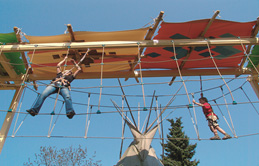 Ropes Courses and Zip Lines: Water Ventures supplies and builds zip line and high ropes course towers with long and short runs and a multitude of configurations for all skill levels.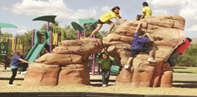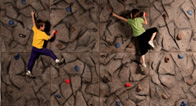 Climbing Walls: Water Ventures engineers and builds free form rock walls as well as panel walls and smaller kids climbing rocks gardens. All equipment, auto belays, steel anchoring, floor padding etc. supplied.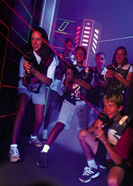 Laser Tag Arenas: Water Ventures designs and builds complete "Glow in the Dark" Laser Tag Arenas indoor – including all guns, vests, computer system, front desk, barriers, black lights, glow carpet etc. 4,000 square foot to 6,000 square foot facilities with training.
Other Attractions: Kids Trampoline parks, Exploration Centers, Small Aquariums, Video Games and Table Games.
Click HERE to contact us about getting more information on designing and building a Family Entertainment facility.



---