Pedal Boats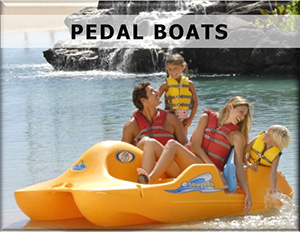 Whichever type of pedal boat you are looking for Water Ventures can help . Water Ventures has a large selection of pedal boats for sale including long time standards like the Water Wheeler paddle boat and Future Beach commercial pedal boats. We also supply hybrid pedal electric boats, water bikes, and themed boats.
We can help recommend what pedal boat (also called paddle boats or peddle boats) would work best for you. If you are looking to start a rental or commercial operation look no further than the Future Beach rotomolded line of boats. Their exclusive patented self-bailing feature, makes Future Beach pedal boats the only boats on the market that keep both the passengers and the boat clean and dry. The large drive train and paddle wheel blades make pedaling easier. Made for fun and designed for heavy traffic use and abuse: Uni-molded polyethylene hull and 100% non-corroding crankshaft and bearings are ultra durable; and self-bailing pedal wells stay dry and clean.
Other options for commercial business are eye catching pedal boats such as the Aquacycle and the animal themed boats.
If you are looking for a more cost effective boat for personal use we can recommend long time classic boats like the Water Wheeler, or if you are interested in getting some exercise while on the water check out the ItBike single and double models - perfect for a comfortable leisurely ride or an intense cardiovascular workout at higher cycling speeds.
The newest innovation for pedal boats are hybrid pedal-electric boats that give a level of efficiency and comfort ordinary peddle and small boats on the market today. These hybrid boats give you the ability to get out on the water and pedal around for exercise, or to kick back and just cruise along with the electric motor.
Send us an email or give us a call and we would be happy to answer any questions you have or to prepare a quote for 1 boat or for a whole rental fleet.
Click to see our full line of Pedal Boats
---